श्री हनुमान चालीसा पाठ PDF डाउनलोड करें Kannada में: बजरंगबली को प्रसन्न Karne ke liye पढ़ें हनुमान चालीसा पाठ.
श्री हनुमान जी ka naam lekar, श्री हनुमान चालीसा को नीचे diye gaye dohe se शुरू किया जाता है और उसके बाद चौपाई पढ़ी जाती है। चौपाई सम्पूर्ण करने का पश्चात phir se एक दोहा पढ़ा जाता है जो कि नीचे और श्री हनुमान चालीसा PDF में diya hua hai.
Download PDF of ಹನುಮಾನ್ ಚಾಲಿಸಾ | Hanuman Chalisa Kannada from Drive Files
| | |
| --- | --- |
| PDF Name | श्री हनुमान चालीसा पाठ (Shri Hanuman Chalisa) |
| No. of Pages | 8 |
| PDF Size | 0.45 MB |
| Language | Kannada |
| Tags | Hanuman Chalisa (श्री हनुमान चालीसा), चालीसा संग्रह |
| PDF Category | Religion & Spirituality |
The Hanuman Chalisa (ಹನುಮಾನ್ ಚಾಲಿಸಾ), a holy group consisting of forty Chaupais dedicated to Lord Shri Hanuman, is one such holy group. It is a Hindu devotional hymn, or stotra, addressed to Lord Hanuman.
It was written in 16th-century Awadhi by Tulsidas, a poet. The Hanuman Chalisa contains 40 verses, excluding the couplets at both the beginning and the end.
Hanuman Chalisa Kannada PDF can be downloaded and read at your leisure. However, it is recommended that you chant Shri Hanuman Chalisa every morning, as per the beliefs. Shri Hanuman worshippers can also observe fasting on Tuesdays and Saturdays.
ದೋಹಾ
ಶ್ರೀ ಗುರು ಚರಣ ಸರೋಜ ರಜ
ನಿಜಮನ ಮುಕುರ ಸುಧಾರಿ
ವರಣೌ ರಘುವರ ವಿಮಲ ಯಶ
ಜೋ ದಾಯಕ ಫಲಚಾರಿ ||

ಬುದ್ಧಿಹೀನ ತನು ಜಾನಿಕೇ
ಸುಮಿರೌ ಪವನಕುಮಾರ
ಬಲ ಬುದ್ಧಿ ವಿದ್ಯಾ ದೇಹು ಮೋಹಿ
ಹರಹು ಕಲೇಶ ವಿಕಾರ ||

ಚೌಪಾಈ-
ಜಯ ಹನುಮಾನ ಜ್ಞಾನಗುಣಸಾಗರ |
ಜಯ ಕಪೀಶ ತಿಹು ಲೋಕ ಉಜಾಗರ || ೧ ||

ರಾಮದೂತ ಅತುಲಿತ ಬಲಧಾಮಾ |
ಅಂಜನಿಪುತ್ರ ಪವನಸುತ ನಾಮಾ || ೨ ||

ಮಹಾವೀರ ವಿಕ್ರಮ ಬಜರಂಗೀ |
ಕುಮತಿ ನಿವಾರ ಸುಮತಿ ಕೇ ಸಂಗೀ || ೩ ||

ಕಂಚನ ವರಣ ವಿರಾಜ ಸುವೇಶಾ |
ಕಾನನ ಕುಂಡಲ ಕುಂಚಿತ ಕೇಶಾ || ೪ ||

ಹಾಥ ವಜ್ರ ಔರು ಧ್ವಜಾ ವಿರಾಜೈ |
ಕಾಂಧೇ ಮೂಂಜ ಜನೇವೂ ಸಾಜೈ || ೫ ||

ಶಂಕರ ಸುವನ ಕೇಸರೀನಂದನ |
ತೇಜ ಪ್ರತಾಪ ಮಹಾ ಜಗವಂದನ || ೬ ||

ವಿದ್ಯಾವಾನ ಗುಣೀ ಅತಿಚಾತುರ |
ರಾಮ ಕಾಜ ಕರಿವೇ ಕೋ ಆತುರ || ೭ ||

ಪ್ರಭು ಚರಿತ್ರ ಸುನಿವೇ ಕೋ ರಸಿಯಾ |
ರಾಮ ಲಖನ ಸೀತಾ ಮನ ಬಸಿಯಾ || ೮ ||

ಸೂಕ್ಷ್ಮರೂಪ ಧರಿ ಸಿಯಹಿ ದಿಖಾವಾ |
ವಿಕಟರೂಪ ಧರಿ ಲಂಕ ಜರಾವಾ || ೯ ||

ಭೀಮರೂಪ ಧರಿ ಅಸುರ ಸಂಹಾರೇ |
ರಾಮಚಂದ್ರ ಕೇ ಕಾಜ ಸಂವಾರೇ || ೧೦ ||

ಲಾಯ ಸಂಜೀವನ ಲಖನ ಜಿಯಾಯೇ |
ಶ್ರೀರಘುವೀರ ಹರಷಿ ವುರ ಲಾಯೇ || ೧೧ ||

ರಘುಪತಿ ಕೀನ್ಹೀ ಬಹುತ ಬಡಾಯೀ |
ತುಮ ಮಮ ಪ್ರಿಯ ಭರತ ಸಮ ಭಾಯೀ || ೧೨ ||

ಸಹಸ ವದನ ತುಮ್ಹರೋ ಯಶ ಗಾವೈ |
ಅಸ ಕಹಿ ಶ್ರೀಪತಿ ಕಂಠ ಲಗಾವೈ || ೧೩ ||

ಸನಕಾದಿಕ ಬ್ರಹ್ಮಾದಿ ಮುನೀಶಾ |
ನಾರದ ಶಾರದ ಸಹಿತ ಅಹೀಶಾ || ೧೪ ||

ಯಮ ಕುಬೇರ ದಿಗಪಾಲ ಜಹಾಂ ತೇ |
ಕವಿ ಕೋವಿದ ಕಹಿ ಸಕೇ ಕಹಾಂ ತೇ || ೧೫ ||

ತುಮ ಉಪಕಾರ ಸುಗ್ರೀವಹಿ ಕೀನ್ಹಾ |
ರಾಮ ಮಿಲಾಯ ರಾಜ ಪದ ದೀನ್ಹಾ || ೧೬ ||

ತುಮ್ಹರೋ ಮಂತ್ರ ವಿಭೀಷಣ ಮಾನಾ |
ಲಂಕೇಶ್ವರ ಭಯ ಸಬ ಜಗ ಜಾನಾ || ೧೭ ||

ಯುಗ ಸಹಸ್ರ ಯೋಜನ ಪರ ಭಾನೂ |
ಲೀಲ್ಯೋ ತಾಹಿ ಮಧುರ ಫಲ ಜಾನೂ || ೧೮ ||

ಪ್ರಭು ಮುದ್ರಿಕಾ ಮೇಲಿ ಮುಖ ಮಾಹೀ |
ಜಲಧಿ ಲಾಂಘಿ ಗಯೇ ಅಚರಜ ನಾಹೀ || ೧೯ ||

ದುರ್ಗಮ ಕಾಜ ಜಗತ ಕೇ ಜೇತೇ |
ಸುಗಮ ಅನುಗ್ರಹ ತುಮ್ಹರೇ ತೇತೇ || ೨೦ ||

ರಾಮ ದುವಾರೇ ತುಮ ರಖವಾರೇ |
ಹೋತ ನ ಆಜ್ಞಾ ಬಿನು ಪೈಸಾರೇ || ೨೧ ||

ಸಬ ಸುಖ ಲಹೈ ತುಮ್ಹಾರೀ ಶರಣಾ |
ತುಮ ರಕ್ಷಕ ಕಾಹೂ ಕೋ ಡರನಾ || ೨೨ ||

ಆಪನ ತೇಜ ಸಂಹಾರೋ ಆಪೈ |
ತೀನೋಂ ಲೋಕ ಹಾಂಕ ತೇಂ ಕಾಂಪೈ || ೨೩ ||

ಭೂತ ಪಿಶಾಚ ನಿಕಟ ನಹಿಂ ಆವೈ |
ಮಹಾವೀರ ಜಬ ನಾಮ ಸುನಾವೈ || ೨೪ ||

ನಾಸೈ ರೋಗ ಹರೈ ಸಬ ಪೀರಾ |
ಜಪತ ನಿರಂತರ ಹನುಮತ ವೀರಾ || ೨೫ ||

ಸಂಕಟಸೇ ಹನುಮಾನ ಛುಡಾವೈ |
ಮನ ಕ್ರಮ ವಚನ ಧ್ಯಾನ ಜೋ ಲಾವೈ || ೨೬ ||

ಸಬ ಪರ ರಾಮ ತಪಸ್ವೀ ರಾಜಾ |
ತಿನ ಕೇ ಕಾಜ ಸಕಲ ತುಮ ಸಾಜಾ || ೨೭ ||

ಔರ ಮನೋರಥ ಜೋ ಕೋಯೀ ಲಾವೈ |
ತಾಸು ಅಮಿತ ಜೀವನ ಫಲ ಪಾವೈ || ೨೮ || [** ಸೋಯಿ **]

ಚಾರೋಂ ಯುಗ ಪ್ರತಾಪ ತುಮ್ಹಾರಾ |
ಹೈ ಪರಸಿದ್ಧ ಜಗತ ಉಜಿಯಾರಾ || ೨೯ ||

ಸಾಧುಸಂತಕೇ ತುಮ ರಖವಾರೇ |
ಅಸುರ ನಿಕಂದನ ರಾಮ ದುಲಾರೇ || ೩೦ ||

ಅಷ್ಟ ಸಿದ್ಧಿ ನವ ನಿಧಿ ಕೇ ದಾತಾ |
ಅಸವರ ದೀನ್ಹ ಜಾನಕೀ ಮಾತಾ || ೩೧ ||

ರಾಮ ರಸಾಯನ ತುಮ್ಹರೇ ಪಾಸಾ |
ಸದಾ ರಹೋ ರಘುಪತಿ ಕೇ ದಾಸಾ || ೩೨ ||

ತುಮ್ಹರೇ ಭಜನ ರಾಮ ಕೋ ಪಾವೈ |
ಜನ್ಮ ಜನ್ಮ ಕೇ ದುಖ ಬಿಸರಾವೈ || ೩೩ ||

ಅಂತಕಾಲ ರಘುಪತಿ ಪುರ ಜಾಯೀ | [** ರಘುವರ **]
ಜಹಾಂ ಜನ್ಮಿ ಹರಿಭಕ್ತ ಕಹಾಯೀ || ೩೪ ||

ಔರ ದೇವತಾ ಚಿತ್ತ ನ ಧರಯೀ |
ಹನುಮತ ಸೇಯಿ ಸರ್ವಸುಖಕರಯೀ || ೩೫ ||

ಸಂಕಟ ಹರೈ ಮಿಟೈ ಸಬ ಪೀರಾ |
ಜೋ ಸುಮಿರೈ ಹನುಮತ ಬಲವೀರಾ || ೩೬ ||

ಜೈ ಜೈ ಜೈ ಹನುಮಾನ ಗೋಸಾಯೀ |
ಕೃಪಾ ಕರಹು ಗುರು ದೇವ ಕೀ ನಾಯೀ || ೩೭ ||

ಯಹ ಶತವಾರ ಪಾಠ ಕರ ಜೋಯೀ |
ಛೂಟಹಿ ಬಂದಿ ಮಹಾಸುಖ ಹೋಯೀ || ೩೮ ||

ಜೋ ಯಹ ಪಢೈ ಹನುಮಾನ ಚಾಲೀಸಾ |
ಹೋಯ ಸಿದ್ಧಿ ಸಾಖೀ ಗೌರೀಸಾ || ೩೯ ||

ತುಲಸೀದಾಸ ಸದಾ ಹರಿ ಚೇರಾ |
ಕೀಜೈ ನಾಥ ಹೃದಯ ಮಹ ಡೇರಾ || ೪೦ ||

ದೋಹಾ
ಪವನತನಯ ಸಂಕಟ ಹರಣ
ಮಂಗಳ ಮೂರತಿ ರೂಪ ||
ರಾಮ ಲಖನ ಸೀತಾ ಸಹಿತ
ಹೃದಯ ಬಸಹು ಸುರ ಭೂಪ ||

ಹನುಮಾನ್ ಚಾಲಿಸಾ PDF
श्री हनुमान के पूजन ke liye सबसे पहले व्यक्ति ko स्नान karke शुद्ध होना chiye। इसके बाद पूर्व दिशा की ओर आसन लगाकर baithna chiye। सामने श्री हनुमान ji ki pratima फिर राम दरबार का चित्र ho tho उत्तम होता है। हाथ mai चावल, पुष्प, दूर्वा lekar इस मंत्र का उच्चारण kar श्री हनुमान जी का ध्यान karna chiye।
The Hanuman Chalisa, a Hindu devotional song (strotm), addressed to Lord Hanuman, is known as the Hanuman Chalisa. It was written in 16th-century Awadhi by Tulsidas, and it is his most well-known text aside from the Ramcharitmanas.
Hanuman, a devotee to Ram, is one of the central characters of the Indian epic, The Ramayan. Some Shaivite beliefs claim that Lord Hanuman is an incarnation Lord Shiva. Folklore praise the power of Hanuman.
Many worship Lord Hanuman as a god of strength and courage. Even though most people know a lot about Lord Hanuman's life thanks to the television shows, there are still many things we don't know about our beloved Bajrangbali. These are:
Anjana, a beautiful Apsara at the celestial palace court Court of Lord Brahma, was cursed by a Sage who said that if she fell in love, her face would turn to that of a monkey. Lord Brahma offered to help her, and she was born on Earth. Anjana was later in love with Kesari the monkey king, and they were married. She was an ardent follower of Lord Shiva and continued her tapasya to please God. She was impressed by Lord Shiva and wished that he would become her son to free her from the curse of the Sage.
A few days later, King Dasrath was performing an yagna and the Sage gave him kheer so that he could feed his wives. Kaushlya (his eldest wife) was taken by a kite that flew all the distance to Anjana's meditating place. Lord Vayu, also known as Pawan – Wind, kept the kheer within Anjana's reach. It was thought that Lord Shiva had eaten it. Anjana then ate it, and so Pawan Putra Hanuman, the Lord of Winds, was born.
Lord Hanuman was deeply devoted to Lord Rama. Hanuman was particularly interested in the time Sita placed sindoor on her forehead. She replied that she was the wife and companion to Lord Rama and the sindoor was a sign her unconditional love. Hanuman covered his entire body in sindoor to show his love for Lord Rama. Lord Rama was impressed and gave a boon to those who worshiped Lord Hanuman with sindoor. All their problems would disappear.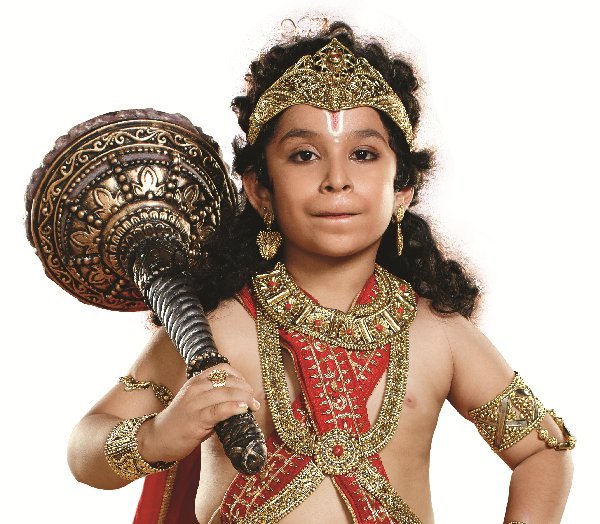 Source: Sony TV
In Sanskrit, 'Hanu' means 'Jaw' and 'Man' means 'Disfigured'. It's no wonder that Hanuman's jaw was damaged as a child by Lord Indra, who had used his vajra against Anjaneya. Anjaneya took sun as a ripened mango and even traced it up in the skies. It was there that Lord Indra had placed his vajra, which threw Hanuman right onto the Earth, causing permanent damage to his jaw.
Hanuman's son Makard hwaja was conceived to a powerful fish of the same name. Hanuman, after having burned the whole Lanka with his tail, had dipped his toes in the sea to cool down. His sweat was said to have been swallowed and Makardhwaja was born.
When Lord Ram was made King, Narada, a notorious sage for creating discord between Ram and Hanuman, asked Hanuman, who was once a King, to greet all the sages, except Vishwamitra. Hanuman did it, but it didn't affect Vishwamitra.
Narada continued to incite Vishwamitra. This angered Ram so much that he asked Ram to execute Hanuman's death sentence. Vishmamitra was his guru and Ram couldn't ignore his order. He sent arrows to Hanuman. The statement was to be made the next day on the field. However, all the arrows failed Hanuman's cause of death as he continued to chant Ram!
Ram was obliged to follow his Guru's instructions, so he chose to use the Brahmastra. Surprise of all, Hanuman's chants to Ram failed the most powerful Brahmastra. Narada saw this and went to Vishwamitra to confess his error, stopping the whole ordeal.
Hanuman returned to Himalaya after the war in Sri Lanka. He continued his reverence for Lord Ram. Hanuman's version of Ram's story was etched on the Himalayan walls with his nails.
Maharshi Valmiki visited Hanuman in order to show him his Ramayana. He saw the walls and was sad because Valmiki believed Hanuman's Ramayana was better and that his laboriously created Ramayana would be ignored. Hanuman realized this and discarded his own version. Valmiki, taken aback, said that he would love the chance to be reborn and sing Hanuman's glory!
Bhima was also Vayu's son. Bhima, while searching for the flower his wife desired, saw a monkey asleep with his tail crossed over the path. He asked him to move the monkey's tail. The monkey refused to do it, so he asked Bhima for help. Bhima was proud of his strength. He couldn't lift or move the tail. He realized that this wasn't a normal monkey. Hanuman was the one who had created it. To reduce Bhima's arrogance, he lied.
Lord Rama made the decision to leave his earthly life to travel to Vaikuntha, the heavenly abode of Lord Vishnu. He knew that Hanuman wouldn't allow him to do so because he was a great devotee. He instructed Hanuman, to locate his ring that had fallen on the ground. The ring then vanished in the Patal Loka. Hanuman set about finding the ring, and was met by King of Spirits. He explained to him that Lord Ram's avatar was ending when the ring fell.
Sita gifted Hanuman a lovely pearl necklace, but he politely declined the gift. He doesn't accept gifts that aren't named Ram. The ardent devotee then took off his chest to show an image of the two of them.
We don't know a lot about Lord Hanuman. Unknowingly, Lord Hanuman has shared many life lessons with us. You can find them in Sony TV's Mahabali Hanuman, a charming show that ends every episode with a lesson from the Lord's life.