What type of thing is being referred to makes the difference between a common and proper noun. Common nouns are generic while proper nouns are specific. The noun country, for example, is a common noun as it refers to an unspecific, general place. The noun Spain, on the other hand is a proper noun as it refers specifically to a country in Europe (another proper name). Grammatically, the main difference between proper and common nouns is that proper nouns must always be capitalized while common nouns can only be capitalized in certain situations.
Common nouns are generic names for people, places and things. Using examples will help you better understand what we mean.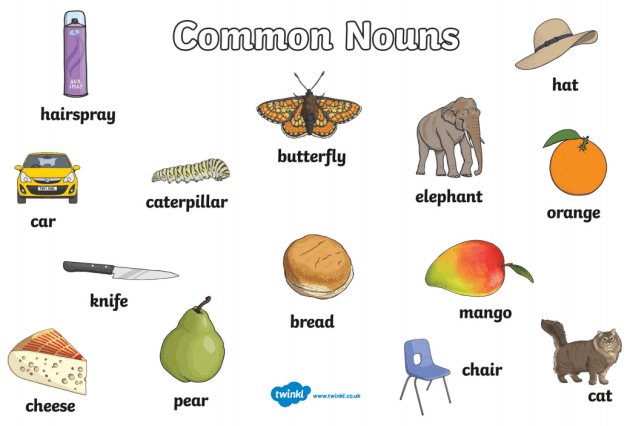 Common nouns may refer to people, places and things.
People:Man, woman, child
Places City, country, neighborhood, island, beaches, province or state, outside, upstairs basement hallway lobby rooms alleys campsites
Things Guitar, drums.
Ideas, emotions, and concepts Happiness, sadness, fear and courage. Questions, answers, government.
Proper nouns may also refer to people or places, ideas, and things. Proper nouns can refer to specific people or things.
You can check your knowledge of common nouns by reading each of the proper nouns. Is there a common noun you could use to refer to every item that is referred to by a proper noun
People:Harriet Tubman King Richard the Lionheart Miles Davis, Emily Dickinson Helen of Troy, Superman Lady Gaga Captain Crunch
Places New York City, Moscow, Cairo, Portugal, Zimbabwe, Peru, Europe, Asia, Australia, Main Street, Rocky Mountains, Colorado River, Sahara Desert
Things Jupiter, Google and Twitter. Kawasaki Ninja, Playstation 5. Star WarsBand-aidsHarry Potter and The Chamber of Secrets, Apollo 13, Great Wall of China
Ideas and concepts:Christianity, Islam and Buddhism.
Grammatically, capitalization is the most significant difference between proper and common nouns. Proper nouns must be capitalized regardless of where they appear within a sentence. This rule does not apply to brand names, which use lowercase letters for stylistic purposes. The iPad word is an exception to this rule.
Common nouns are, however, only capitalized at the start of sentences or when they are used in the title, name, or description of something. The common noun captain, for example, will be used in most sentences lowercase. It is capitalized when the word is used in a title, such as Captain Hook.
In most sentences, both common and proper nouns will be used. It is generally quite easy to use them. However, you need to be careful to capitalize proper nouns, and to capitalize common nouns only when appropriate.
Look at the capitalization to determine whether a word is a proper or common noun. Are the capital letters of the nouns in the middle or end of sentences capitalized? If this is the case, then you probably have a proper noun. It is more difficult if the noun appears first in the sentence. If the noun refers to a particular person or thing, it is worth asking yourself. If it is, then you are looking at a proper noun. If it's not, then you're looking at a common noun. It is a good rule of thumb to remember that all titles and names are proper nouns, and will always be capitalized.
Let's see if we can master common and proper nouns. Look at the following sentences to see if you can identify if the nouns in the sentence are proper or common.
Yesterday, we went to school.
We were able to learn about France's history.
Jennifer, my older sibling.
She enjoys Stephen King novels.
Take a look at these examples sentences to see if there are any mistakes with common or proper nouns. You will find the solutions at the end.
My favorite American president is Theodore Roosevelt.
All kinds of animals are my favorite. Dogs are my favorite animal.
We went to Arizona and I took tons pictures of the Grand Canyon.
No more grammar errors
We have a noun for genius! And that's what you'll be when you check your writing on Thesaurus.com's Grammar Coach(tm). This unique tool will detect the differences between common and proper nouns, plus more! Grammar Coach(tm), which uses machine learning technology, is uniquely designed to spot grammar and spelling mistakes. The Synonym Swap will help you find the most appropriate nouns and adjectives to express your true meaning. It will also guide you towards clearer, more powerful writing.
Perfect grammar is essential for writing about people, places, and things.
| No | Common Noun | Proper Noun |
| --- | --- | --- |
| 1 | Animals | Cow |
| 2 | App | Facebook |
| 3 | Author | Robert |
| 4 | Biscuit | Oreo |
| 5 | Book | Grammar |
| 6 | Building | Empire State |
| 7 | Bulb | Philips |
| 8 | Camera | Canon |
| 9 | Car | Audi |
| 10 | Cat | Buttons |
| 11 | Chocolate | Snickers |
| 12 | City | Tokyo |
| 13 | Color | Black |
| 14 | Company | Tesla |
| 15 | Continent | Asia |
| 16 | Cosmetic | Kylie |
| 17 | Country | America |
| 18 | Currency | Doller |
| 19 | Dog | Bulldog |
| 20 | Drink | Co-cola |
| 21 | Ecommerce | Amazon |
| 22 | Festival | Christmas |
| 23 | Fish | Tuna |
| 24 | Flower | Rose |
| 25 | Food | Burger |
| 26 | Fruit | Pineapple |
| 27 | Herbs | Basil |
| 28 | Holiday | New Year Day |
| 29 | Lady | Helen |
| 30 | Language | English |
| 31 | Laptop | Mac book |
| 32 | Mobile | Apple |
| 33 | Month | January |
| 34 | Mountain | Mount Everest |
| 35 | Movie | Iron Man |
| 36 | News Paper | New York Times |
| 37 | Ocean | Pacific ocean |
| 38 | Park | Central Park Zoo |
| 39 | Planet | Mars |
| 40 | President | Abraham Lincoln |
| 41 | Printer | HP |
| 42 | River | Nile |
| 43 | School | Cambridge University |
| 44 | Search Engine | Google |
| 45 | Season | Rainy |
| 46 | Ship | Titanic |
| 47 | Singer | Justin bieber |
| 48 | Software | Photoshop |
| 49 | Sports | Cricket |
| 50 | State | Alaska |
| 51 | Student | David |
| 52 | Television | Samsung |
| 53 | Tools | Screwdriver |
| 54 | Tower | Eiffel Towet |
| 55 | Toy | Barbie |
| 56 | Tree | Pine |
| 57 | University | Oxford |
| 58 | Vegetables | Tomato |
| 59 | Website | Wikipedia |
| 60 | Week | Sunday |